Georgetown University
School of Foreign Service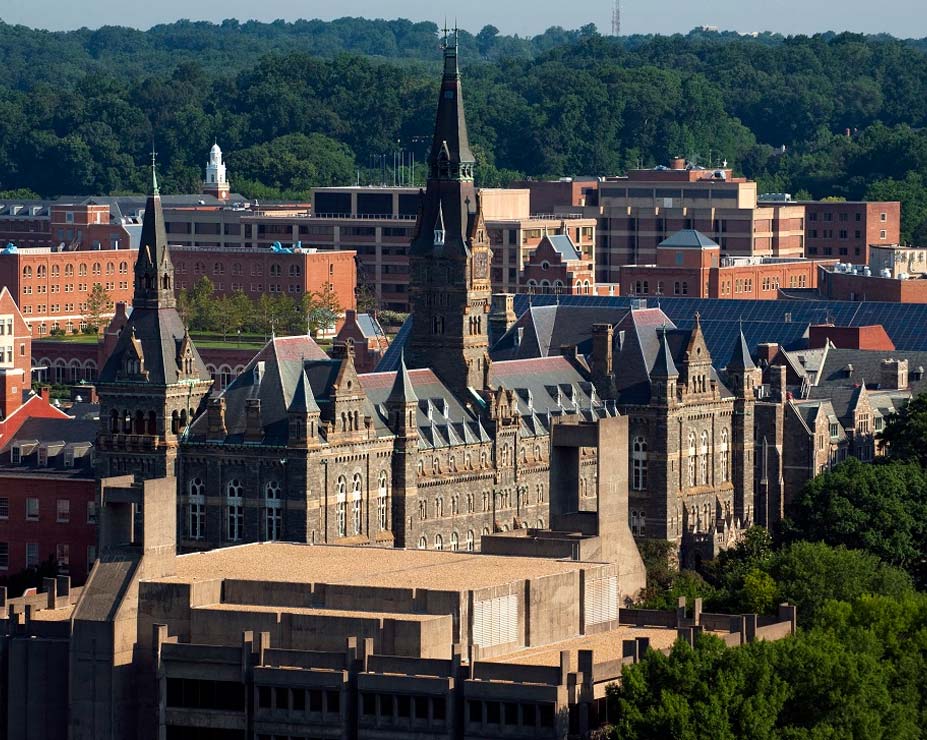 Founded in 1919 to educate students and prepare them for leadership roles in international affairs, the School of Foreign Service remains committed to intercultural understanding and service in the global arena, ideals held by its founder and first dean, the Rev. Edmund A. Walsh, S.J. Today, the School conducts an undergraduate program for over 1,400 students and graduate programs to the Master's level for over 900 students from 70 countries.
Located in the heart of Washington, D.C., students at the School of Foreign Service benefit from opportunities in a unique environment which is not only the seat of the nation's government but also the headquarters of major international organizations and non-profit institutions, trade and consulting groups, and high technology firms.
The School's liberal arts undergraduate program includes a two-year required core curriculum followed by two years of multidisciplinary electives. Major fields of study include history, international politics, international economics, comparative and regional studies, culture and politics, and science and technology. Eight interdisciplinary graduate programs — five regional studies programs as well as the Master of Science in Foreign Service, Global Human Development, and the Security Studies Program– are designed to teach students to think about, analyze, and act in the world of the twenty-first century with imagination, good judgment, and compassion.
Degree Programs
Master of Science in Foreign Service
Master of Arts in Security Studies
Master of Global Human Development
Master of Arts in Arab Studies
Master of Arts in Asian Studies
Master of Arts in Eurasian, Russian and East European Studies
Master of Arts in German and European Studies
Master of Arts in Latin American Studies
Georgetown University In The World
---
Job Openings
Join a dynamic and creative team at Georgetown University in this hybrid role, focused on recruiting the next generation of leaders and scholars in the security community.
Category: Full-Time Staff
Upcoming Events
Georgetown MSFS Virtual Information Session
This school is not attending any APSIA events.
News
Please join us on Thursday, July 21 at 6:00 p.m. for a speaker event and open house for SFS Graduate Degree Programs. The event will commence with a brief presentation on the Edmund A. Walsh School of Foreign Service by Professor Tony Arend, Director of the Master of Science in Foreign Service and Senior Associate Dean for Faculty and Graduate Affairs within the SFS. Attendees will also hear about application guidelines and recommendations from a panel of Admissions Officers and have the opportunity to speak with representatives from the eight degree programs.