George Washington University
Elliott School of International Affairs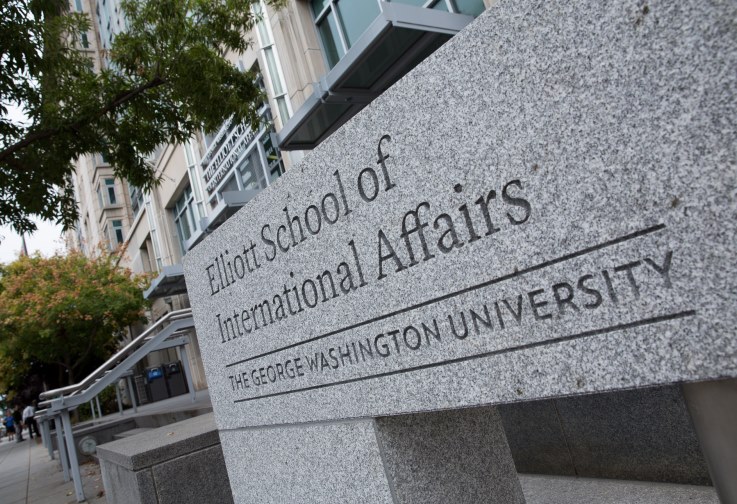 The George Washington University's Elliott School of International Affairs is one of the world's leading schools of international affairs.
Located in the heart of Washington DC, its mission is to educate the next generation of international leaders, conduct research that advances understanding of important global issues, and engage the policy community in the United States and around the world.
Each year, approximately 325 students enter our eight two-year master's degree programs on international affairs, international development, international trade and investment policy, international science and technology policy, global communication, and security policy studies and regional programs focusing on Asia and the Middle East. The Elliott School also offers a one-year master's degree program for mid-career professionals and a one-year, dual-degree Master in International Studies program for students from the Elliott School's 15 partner universities overseas. In addition, we offer joint degree programs with GW's schools of business, law and public health, and graduate concentrations in those same fields as well as in international education.
Degree Programs
Master of Arts in International Affairs
Master of Arts in International Development Studies
Master of Arts in Security Policy Studies
Master of Arts in Asian Studies
Master of Arts in Global Communication
Mater of Arts in International Trade and Investment Policy
Master of Arts in International Science and Techonology Policy
Master of Arts in Middle East Studies
Master of International Policy and Practice
George Washington University In The World
---
Job Openings
No jobs have been posted by this school.
Upcoming Events
No events have been posted by this school.
This school is not attending any APSIA events.
News
Alyssa Ayres, senior fellow for India, Pakistan and South Asia at the Council on Foreign Relations, is a respected foreign policy practitioner, author and researcher who has worked across multiple sectors.
Combat veteran, Purple Heart recipient and U.S. Sen. Tammy Duckworth (D-Ill.) will deliver GW's commencement address before an audience of 25,000 graduates, friends and family members on May 21 on the National Mall. The Elliott School alumna said she looks forward to encouraging graduates to "go out and make a difference in the world."
Elliott School alumna Rose Gottemoeller (MA '81) took up her post as NATO's Deputy Secretary General – the Alliance's second most senior international civil servant – on Monday, October 17, 2016.