Princeton University
School of Public and International Affairs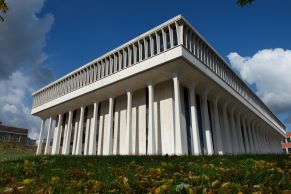 Our students not only develop analytical skills but also acquire substantive knowledge about the world's most important domestic and international policy issues. This balance is reflected in our curriculum, which varies widely in both topic and format. Lectures, seminars and workshops are taught by renowned scholars as well as practitioners who have served in leadership positions at all levels of government and in multilateral and nonprofit organizations.
Degree Programs
Master of Public Affairs
Master of Public Policy
Master of Public Affairs- Juris Doctorate
Joint Degree Program in Social Policy
Doctorate of Philosophy in Public Affairs
Certificate in Health and Health Policy
Certificate in Science, Technology and Environmental Policy
Certificate in Urban Policy
Princeton University In The World
No stories have been posted by this school
---
Job Openings
The School of Public and International Affairs at Princeton University invites applicants for an assistant, associate or full professor in the field of information technology policy.
Category: Faculty/Scholar
Upcoming Events
No events have been posted by this school.
This school is not attending any APSIA events.
News
Proud to Celebrate 2020 Pat Tillman Scholar Bradley SnyderJun 25, 2020The Woodrow Wilson School (WWS) community is honored to celebrate Bradley Snyder on his selection as a 2020 Pat Tillman Scholar. The Tillman Foundation honors military members who ex…
Statement from WWS Graduate AdmissionsJun 16, 2020WWS Graduate Admissions Office

Asian American and Pacific Islander NextGen LeadersMay 22, 2020The Woodrow Wilson School of Public and International Affairs extends a heartfelt congratulations to Sagatom Saha (MPA '20) and Minh-Thu Pham (MPA '03), on their honorable selection as 2020…
2020 Students and Alumni of Color SymposiumMay 8, 2020Students & Alumni of Color (SAOC), a student-led organization at the Woodrow Wilson School, held its 24th annual symposium on April 29, 2020, via the Zoom online platform.
SAOC's mission is to b…
Pass/Fail Grades due to COVID-19Apr 29, 2020We've received a number of inquiries as to how we will consider courses taken pass/fail during the spring 2020 semester (as opposed to for a letter grade).
To put our bottom line up front: Do Not Worry.
We ar…
Keeping Busy during COVID-19Apr 6, 2020We are sending lots of well-wishes and positive vibes from the Woodrow Wilson School. Our campus has been actively responding to the COVID-19 pandemic. As many of us have transitioned to working remotely, we miss …