University of Denver
Josef Korbel School of International Studies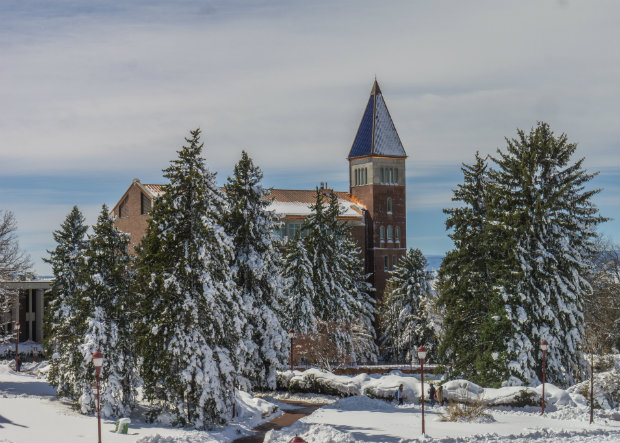 The University of Denver's Josef Korbel School of International Studies is a leader among institutions of higher learning that prepare students for transnational careers in the public, private, and nonprofit sectors.
Ranked by Foreign Policy magazine as #11 in the world for master's degree programs of international affairs, the Josef Korbel School offers a customizable curriculum integrating practical and theoretical approaches to the study of our globalizing world.
Degree Programs
MA in Conflict Resolution
MA in Global Finance, Trade and Economic Integration
MA in International Administration
MA in International Development
MA in Human Rights
MA in International Security
MA in International Studies
MA in International Intercultural Communications
Master of Public Policy
Certificate in Global Business and Corporate Social Responsibility
Certificate in Global Health Affairs
Certificate in Homeland Security
Certificate in Humanitarian Assistance
Certificate in Religion and International Affairs
University of Denver In The World
---
Job Openings
No jobs have been posted by this school.
Upcoming Events
Join our Fall Open House for an informative evening and get to know the Josef Korbel School of International Studies.
APSIA fairs can help you take the next step in your career! Meet admissions officers from APSIA member schools Discuss admissions requirements, curricula, financial aid […]
APSIA fairs can help you take the next step in your career! Meet admissions officers from APSIA member schools Discuss admissions requirements, curricula, financial aid […]
APSIA fairs can help you take the next step in your career! Meet admissions officers from APSIA member schools Discuss admissions requirements, curricula, financial aid […]
News
The Iranian nuclear agreement has little current American public support. Barely a third of the public (35%) favor it in a recent Fox News poll. In 2015 when the agreement had sufficient votes in the U.S. Senate to sustain a veto (42 senators committed, enough to sustain veto or filibuster a Senate resolution, September 8, 2015), most opinion polling showed a majority of the public opposed the agreement.
That reflected a fall-off in support from when the agreement was signed in July 2015 by the five members of the UN Security Council (China, France, Russia, the United Kingdom and the United States) plus Germany and the European Union. Several polls showed a barely informed public was supportive (when offered details of agreement, support went up 9 to 10 points) (see below).
President Obama, Susan Rice, Benjamin Rhodes, Joe Biden, Jack Lew
and Denis McDonough. Onscreen: John Kerry and Ernest Moniz,
March 15, 2015 (Official White House Photo by Pete Souza)
Public opinion was in contrast to much of the foreign policy establishment and more liberal media, which considered it a victory for "smart, patient and disciplined diplomacy" as President Obama described it (some supporters felt it was simply the best deal under the negotiating conditions).
In general, as the debate proceeded in 2015, partisanship, pro and anti-Obama sentiment, and criticism of the agreement took a toll on its support. The bottom line is that Iran is not a popular country in the U.S.; its general behavior in the Middle East is controversial; and the agreement, for its benefits, still is a negotiated document with many unpopular compromises.
So not surprising, today the public is divided, with a quarter holding no opinion. There is a 28 percent difference in support between Democrats and Republicans, although even half of Democrats either oppose the agreement (21%) or don't know (29%).
The future of the agreement, which is still supported by the other signatories, is in the hands of the Trump administration, Congress and the foreign policy establishment.
As we near the one year anniversary of the most tumultuous presidential election in the modern era, it's time to reflect on the polls and reporting of November 8, 2016.
Most people believe the polls failed. And President Trump and his media team often criticize current unfavorable polls as fake and refer to that night. In the second article in Colorado Politics, the state's top political website, I take on the Election Night reporting and analyses and the charge of fake polls.
Fake polls – just a Trump put-down or a real problem?

At a recent press conference, Sarah Huckabee Sanders brushed back a question from a CNN reporter about a Fox News poll that showed 56 percent of the American people saw President Trump as "tearing the county apart." She used Trump's favorite put-downs:

"A lot of those same polls told you Donald Trump would never be president, and he's sitting in the Oval Office as I stand here, so I don't have a lot of faith in those polls."

She then quoted a poll she liked about support for tax reform. Some polls are fake, others useful.
Listening to Sanders or Trump, you would believe all polling in the 2016 election was a disaster and entirely baseless. Clearly, the narrative going into Election Day created an expectation that turned out to be wrong. But the polling itself was mixed, with most state and national polls accurately capturing the final results. It is important to establish what happened in 2016 and correct any mistakes, as polling has become an essential element in protecting democracy in the Trump era.


Wolf Blitzer, Election Night 2016 | CNN
Political polling as we know it began more than 80 years ago. Soon after its introduction, the polling industry gathered in Central City, Colorado, in 1947 to establish itself as a professional association and define its set of rules. The American Association for Public Opinion Research (AAPOR) will return to Colorado for the first time since 1947 with its national convention in Denver next May.
The 1936 presidential election became the first election to include a statistically based presidential poll. The polling began as a curiosity, but today it dominates much of the national media coverage and political conversation.
In 1936, for the first time in a presidential election, polling pioneers Archibald Crossley, Elmo Roper and George Gallup put polls in the field for dozens of media clients, including the Hearst Publication and Henry Luce's Fortune Magazine. The risk was high. A miss could doom their credibility and stifle a nascent industry – or at least delay it for several years. They predicted a Franklin D. Roosevelt win over Alf Landon, which refuted a projected Landon win by the heralded presidential poll of the era (non-random) sponsored by a national magazine, the Literary Digest.
After their winning result, the three pollsters became known as the "Trio of '36" and went on to conduct accurate polls in Roosevelt's next two elections, 1940 and 1944. They gained personal renown and established the legitimacy of polling as an accurate gage of public opinion in high stake elections.
"Trio of '36": Archibald Crossley,
George Gallup and Elmo Roper
Life Magazine, 1944
All three men, and especially Gallup, became proselytizers for frequent polling, arguing that it helped counter special and well-off interests from dominating government. They saw polling as a way of bringing the public to the table when policy decisions were made, especially during the periods between elections when specific issues arose that might not have dominated the most recent election.
Gallup posed: "Shall the common people be free to express their basic needs and purposes, or shall they be dominated by a small ruling clique? In other words, how does one make those holding high public office responsive to the needs and wishes of the public?"
But the 1948 election shook the new industry to its core. All three pollsters predicted Thomas Dewey, the Republican, would win the election over incumbent Harry Truman. And, as Truman famously quipped, "That ain't how I heard it."
The leaders of the profession realized that mistakes were made and that changes were in order. They acknowledged that they had prematurely quit fieldwork weeks ahead of the election in 1948, believing it was over. Most importantly, they recognized flaws in their sampling procedures and shifted to improve their random selection methods.
AAPOR was created after the first organizing meeting in Central City. It became the professional association that established the rules and ethics of the polling industry. The rules required that published polls provide basic information to readers, such as the date of the poll, sponsor, population polled, sample selected, questions asked and margin of error.
Gallup Inc. became an international company with polls conducted in many countries. Crossley's specialty was surveys of radio audiences, but he continued to poll for political parties, leaders and public policy. His family, including daughter Helen Crossley, also a renowned public opinion researcher, established the Crossley Center for Public Opinion Research at the Josef Korbel School of International Studies at the University of Denver. Roper operated a national market research firm and created a polling archive that became the Roper Center, first at Williams College, then the University of Connecticut and now Cornell University. Each made a lasting mark on a fledgling field that is now universally used to understand public preferences toward both domestic and international policies and leaders.
The Afghanistan decision may have been President Trump's most difficult. He did not want to raise the ante in what looks like a losing proposition. He has railed frequently on how poorly it's been handled and how we should just get out. But after weeks of wrangling with the Pentagon and the generals in his administration, he went with their recommendation for more time and troops.
He only made it only after a long meeting at Camp David with his full national security team.
While he gave a speech as to why he went against his preference, he was vague as to what exactly was committed. But Trump's instinct on ending America's participation in the Afghanistan war is in alignment with a plurality of public opinion and his most ardent supporters of the Steve Bannon wing of the base. In fact, Bannon's exit from the White House was expedited by his resistance to the military's recommendations on Afghanistan.
Although Republicans supported Trump's decision, with 66 percent among whites with no college degree (4-year), only 48 percent agreed with nearly two-fifths opposed (39%).
Charlie Rose interviews Steve Bannon
on 60 Minutes, Sept. 10, 2017 | CBS News
A bigger problem for the GOP than what Trump working with Democrats could do to the Republican senate and congressional races in 2018 is what Steve Bannon announced on 60 Minutes that he's going to do outside the White House. Even before Bannon's interview, speculation was rife that Trump has fatally damaged incumbent Republican Senators Flake's (AZ) and Heller's (NV) reelections. He praised and cajoled Democratic Senator Heidi Heitkamp for a tax cut/reform vote at his North Dakota rally, while Republicans had made her one of their top targets. In addition, between Trump and the ridged ideologists in the Republican House, two swing district incumbents in Pennsylvania and Washington State announced retirement.
But, Bannon and his alt-right media outlets, like Breitbart, intend direct action to fight Republican incumbents that don't tow the Trump line. They are setting in motion a local dynamic where Trump acolytes and more general supporters are blaming Republican congresspersons and senators for Trump's many problems (lack of progress on health care, Russian investigations, Charlottesville press conference, etc.). In the interview, Bannon made clear he and these voters are either encouraging primaries or are suggesting they simply won't vote for various incumbents in 2018. And, of course, it's state and swing district incumbents who are most likely to express some reservations about Trump concerning his character or the legislative agenda.
Bannon's and Trump's strategy of internecine conflict is making it much easier for "Nancy" and "Chuck" to achieve their November 2018 majorities.
President Donald Trump and former White House Chief Strategist Steve Bannon
Donald Trump is having an overdue good week. Presidents and governors who handle weather crises benefit; they even get extra benefit when the damage is less than expected.
The public loves bipartisanship and is desperate for some action in Washington. His "Chuck and Nancy" moment has been well-received, especially by legacy media, which at the moment, he doesn't believe is fake.
Hope for a tax cut increased slightly this week, along with the market and investor optimism. Trump appears to be staying focused on it.
Charlottesville produced the worst numbers of his presidency, 57 percent negative to only 37 percent positive on the RealClearPolitics average (August 13, 2017). He spent most of August below 40 percent. Today, his average has improved to 56 percent negative and 40 percent positive. Expect Trump to finally get back above 40 percent positive. His recent high was 44 percent positive on May 2 right after his first 100 days. It's been a slog since then.