University of Denver
Josef Korbel School of International Studies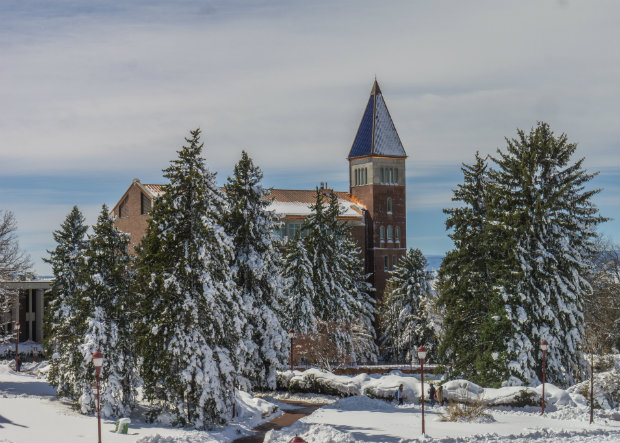 The University of Denver's Josef Korbel School of International Studies is a leader among institutions of higher learning that prepare students for transnational careers in the public, private, and nonprofit sectors.
Ranked by Foreign Policy magazine as #11 in the world for master's degree programs of international affairs, the Josef Korbel School offers a customizable curriculum integrating practical and theoretical approaches to the study of our globalizing world.
Degree Programs
MA in Conflict Resolution
MA in Global Finance, Trade and Economic Integration
MA in International Administration
MA in International Development
MA in Human Rights
MA in International Security
MA in International Studies
MA in International Intercultural Communications
Master of Public Policy
Certificate in Global Business and Corporate Social Responsibility
Certificate in Global Health Affairs
Certificate in Homeland Security
Certificate in Humanitarian Assistance
Certificate in Religion and International Affairs
University of Denver In The World
---
Job Openings
The Josef Korbel School of International Studies seeks an open rank tenure-track professor in the area of quantitative global modeling of political, social, economic, energy, and/or environmental dynamics.
Category: Faculty/Scholar
Upcoming Events
No events have been posted by this school.
APSIA fairs can help you take the next step in your career! Meet admissions officers from APSIA member schools Discuss admissions requirements, curricula, financial aid […]
News
Floyd Ciruli led a discussion with fifteen young leaders from Europe sponsored by the U.S. Department of State International Visitor Leadership Program. WorldDenver hosted the event and approximately 40 of its members joined the discussion.
After two weeks of visits with U.S. officials and issue experts, the leaders' questions still focused on President Trump, his foreign policy moves, and the future of the Democratic and Republican parties. The general assumption was that America will be in a hiatus of international leadership for the near future. The group offered the following observations:
Merkel was in a very strong position for re-election
Merkel and Macron are likely to take lead on host of EU issues
Macron was a phenomenon, much like Trump, in his sudden rise and dominance of the French system
May now has a fragile majority, but is in charge of the start-up of Brexit negotiations
Greens are a larger political group in many countries than far right
The Ukraine is still a major challenge for Europe and U.S. leaders
The EU has had a respite from overt attack, but faces major challenges and turmoil. Nationalist and populist sentiments remain strong.
One of the reigning theories of Western foreign policy since the Nixon era opening to China (1971) was that commerce and contacts would foster a Chinese evolution from authoritarianism to a more pluralistic society. Hong Kong's return to China in 1997 was wrapped in a "One Country, Two Systems" rhetoric that made it the model of what the evolution could produce – namely, independent courts, an efficient civil service and a free, competitive press.
But China's evolution under Xi Jinping is toward more centralization and authoritarianism with liberalization seen as a threat. Unfortunately, democracy in Hong Kong in recent years has not performed well in providing for critical municipal improvements for transportation, housing and land development, and education. Rather, political energy has been focused on procedural voting issues for the city's chief executive. But China has made clear that neither the process nor the city's policy will become more democratic or independent. Hong Kong's local political gridlock has allowed Beijing to argue that democracy is a flawed and failing system.
During Xi's first Hong Kong visit to the swearing-in of the new Beijing-favored chief executive, he made clear that the future of Hong Kong was an internal matter related to China's sovereignty and security.
Chinese President Xi Jinping inspects Hong Kong garrison of the
People's Liberation Army in Hong Kong, June 30, 2017 | Kim Cheung/AP
The future of Hong Kong's democratic features and favored status will be greatly influenced by the test local democracy is facing. Can it reconcile its resistance elements to the more Beijing-leaning governing class and address basic problems or is decline of effective governance and quality of life its future?
Seventy days after celebrating his first 100 days in office, Donald Trump still holds at about 40 percent approval rating. In spite of the Russian investigation, a lack of progress on health care legislation and dozens of grudge tweets, his overall approval has changed little since the April 31 measure, which was 43 percent.
But, a solid majority of Americans still believe he is only marginally fit for office. In a Wall Street Journal/NBC poll, Americans were asked about Trump's leadership qualities. His rating on honesty and trustworthiness, knowledge and experience, and temperament range from more than two-to-one to five-to-one "very poor" over "very good." More than half (52%) of the public do not believe he has the right temperament for the job.
However, Trump has not lost his core Republican supporters. They believe he is mostly producing change and helping the economy. He is already running for re-election with a laser-like focus on jobs in the Midwest. And the Democrats have not had a successful 70 days with the Russian investigation out of the news and losing a series of replacement House elections.
Donald Trump's foreign policy is disruptive. There have been bouts of isolationism, protectionism, nationalism, and shifting allies and alliances in America's history, but the breadth and depth of change in the administration's first 165 days has been astounding. Disruption may have benefits, but it definitely has costs, and Trump witnessing some of the blowback at the G20 Summit in Hamburg.
Not surprising, Trump is especially unpopular in Europe. In fact, attacking Trump is an essential election strategy in Germany and appreciated by voters in much of the continent. Angela Merkel and Emmanuel Macron are organizing a European position at the summit on global issues of importance to them, such as climate change, trade and the rule of international law, each in contradiction with Trump's position and perceived preferences.
German Chancellor Angela Merkel and French President Emmanuel Macron
in Berlin, June 29, 2017
Markus Schreiber/DPA/Zuma Press
The latest Pew Research Worldwide survey shows Trump's weakness with European public opinion as he goes to Hamburg.
A massive shift of 51 percent in "no confidence" in Donald Trump from the end of Barack Obama's term in just the first five months of his presidency in a 37-nation survey just published. In G20 allied countries, Trump has especially negative ratings.
Allies Germany, France, United Kingdom, Japan and South Korea have 50 to 80 point drops in confidence from Obama to Trump. Neighbors Canada and Mexico also don't have confidence. Mexico wasn't that high on Obama either. Only in Israel and Russia of the 37 countries tested did Trump receive more public confidence than Obama.
Trump will find that his G7 lectures in June are less welcomed and his policy views on the defense in Hamburg.
The Pew poll also showed America First and the policies it represents are not particularly popular (leaving climate accord – 71% against, withdraw from trade agreements – 72% against, build a wall with Mexico – 76% against). Trump himself is seen as arrogant (75%), intolerant (65%) and dangerous (62%). But, he also is seen as a strong leader (55%) and charismatic (39%),
Trump and Vladimir Putin are close in their confidence rating at the low end, with Putin at 27 percent and Trump at 22 percent.
Although negative public opinion will not necessarily disrupt long-term relationships, allies support and international solidarity will be much harder for the U.S. and President Trump to achieve.
A panel of polling experts convened at the national conference of the American Association for Public Opinion Research (AAPOR) and reviewed the shifts in public opinion and successes and failures of marijuana legalization. National and California pollsters were represented. I provided a description of Colorado's five-year experiment with recreational marijuana legalization and some of the emerging boundaries of public acceptance.
Presentation description:
Colorado is one of the oldest marijuana adopting states. But, acceptance of recreational marijuana is neither uniform nor universal. More than half the cities and counties do not allow retail sales and most of the public does not want expansion of sales.
Each year for a decade, pro-marijuana legalization advocates rallied on April 20 in downtown Denver for a public smoke-in. But as the mayor of Denver and the Denver Post recently said, the party may be over. Their main point is that the drug is legal and a protest rally is irrelevant and counter-productive. The gathering itself, besides requiring strong police presence and park cleanup, reminds a lot of Coloradans what they don't like about the legalization. Public smoking shows contempt for the law and dramatizes the constant effort to advance more usage. And, of course, the backdrop is that the new Trump administration is hostile to legalization and considering how to step up enforcement. The following editorial appeared in the Colorado Springs Gazette, June 11, 2017, and reflects the AAPOR presentation.
Colorado Springs Gazette
Limitations of state's legalized marijuana
By Guest Columnist
Sunday, June 11, 2017
By Floyd Ciruli

Colorado is often cited as the bellwether of America becoming a marijuana nation. With our legalization of medical marijuana in 2000, and of recreational marijuana in 2012, we helped open the floodgates to what has become a national movement. Continue
Conservative British Prime Ministers should stop calling elections. The Brexit referendum cost Prime Minister Cameron his position and this latest snap parliamentary election has ended Theresa May's political clout, although she may remain in office for now.
Once again, the British polls missed the full late surge of Labour, although they captured the race closing. In my blog of June 7,
British ElectionDraws Closer
, I cited what most British pundits now agree were the major causes of the upset:
May's poor campaign performance, Corbyn's new style and anti-austerity proposals

Conservative election platform problems, Conservatives lost control of the narrative

A still divided electorate and anti-establishment attitudes
Post-election polling data and results refine those general observations with the following:
The youth vote, which failed to show up in the Brexit vote, came out in strength for Labour. They were mostly anti-Brexit and Labour offered a soft Brexit position (keep as many ties as possible, less harsh on immigration). May offered a hard exit from the EU. They also liked Labour's anti-austerity positions.

The Brexit fight may be over in terms of leaving the EU, but the disagreements on how to do it are just beginning.