University of Minnesota
Hubert H. Humphrey School of Public Affairs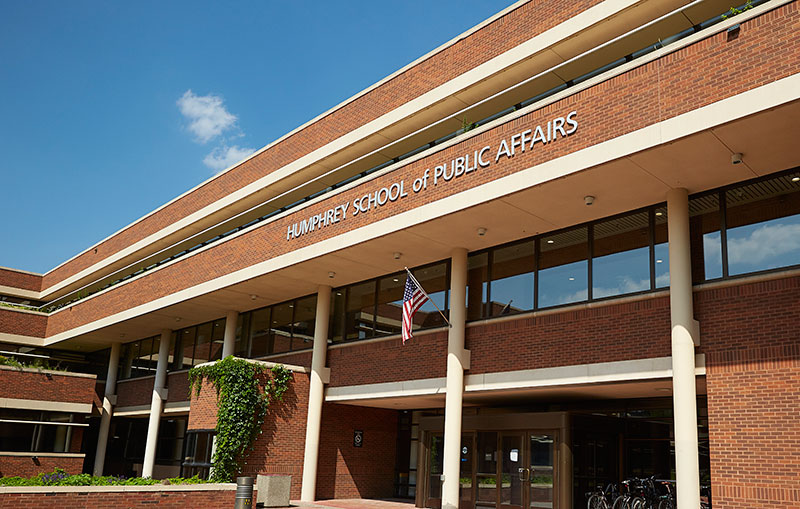 The Humphrey School of Public Affairs at the University of Minnesota ranks among the country's top 10 professional public policy and planning schools, and is widely recognized for its success in advancing the common good through a comprehensive, world-class program. The School offers six distinctive master's degrees, a doctoral degree, and six certificate programs that match students' passion with the knowledge, skills, and experience needed to solve real-world challenges. The School is long noted for equipping students to play key roles in public life at the local, state, national, and global levels, and for providing leadership and management expertise to public and nonprofit organizations.
Degree Programs
Master of Development Practice
Master of Human Rights
Master of Public Affairs (Mid-Career)
Master of Public Policy
Master of Science in Science, Technology, and Environmental Policy
Master of Urban and Regional Planning
PhD
University of Minnesota In The World
---
Job Openings
No jobs have been posted by this school.
Upcoming Events
This information session is designed to provide an introduction to the Humphrey School, its various masters programs, and the admissions and merit aid processes.
This school is not attending any APSIA events.
News
Dear Humphrey School Alumni,By now many of you in the Twin Cities may know the distressing news concerning a Humphrey alumnus, Mohammed Dukuly (MPP '08). Dean Bloomberg sent the following message to us internally, and asked that I share it with y…
Innovation is a vital component to shaping public policy in our fast-paced society, said keynote speaker Anne-Marie Slaughter, president and CEO of New America and a highly regarded expert on foreign policy and international affairs.
Selena Rising Nelson-Salcedo (MPP '07) was honored by the American Foreign Service Association on May 4th. Nelson-Salcedo was a Foreign Service officer serving in Bratislava when she passed away unexpectedly on June 4, 2017. Her name was inscribed on t…
The legacy of Hubert H. Humphrey is felt not only in the halls of the School that bears his name on the University of Minnesota campus; it reaches around the world through an international fellowship program that has brought thousands of mid-career professionals from developing nations to the United States for a year of study, professional experience, and cultural exchange.
Adam Wahlberg (MPA '16) has joined Fast Horse as a copy chief. He also serves as the founder of Think Piece Publishing, LLC. Connect with Adam on LinkedIn.
Assistant Professor Gabriel Chan of the University of Minnesota's Humphrey School of Public Affairs examines the paradox of China's wind power investment.