University of Toronto
Munk School of Global Affairs & Public Policy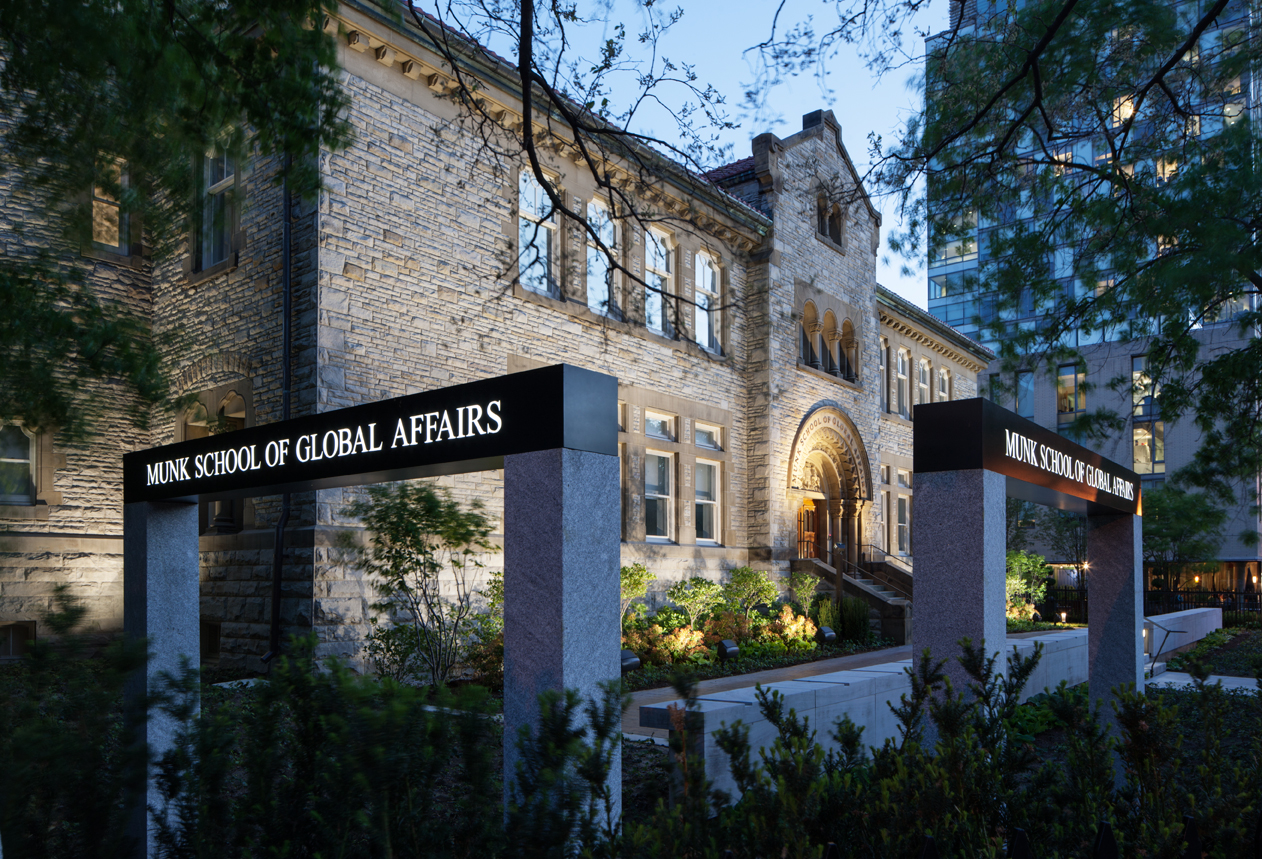 The University of Toronto's Munk School of Global Affairs and Public Policy unites people who are passionate to address the problems of a fast-changing world. Our aspiration is to create a unique, world-leading research, teaching and public engagement site that builds the new field of global affairs from Canada. We are the home of world-renowned researchers and more than 35 academic centres, labs and programs, including the Asian Institute, the Centre for European, Russian and Eurasian Studies, the Centre for the Study of the United States, the Citizen Lab and the Trudeau Centre for Peace, Conflict and Justice.
Exceptional faculty and experts from around the world continue to gravitate to the Munk School. There are more than 230 affiliated faculty engaged in teaching and research, many of whom have cross-appointments in other faculties. There are also over 30 fellows, who are world-leading academics from outside the University, highly distinguished professionals, globally influential leaders in business, the arts and society, and major philanthropists, who bring their substantive knowledge of global affairs and public policy to contribute regularly to the activities of the school.
The centrepiece of our academic core are our two professional graduate programs, the Master of Global Affairs (MGA) and the Master of Public Policy (MPP) – designed to develop a new class of innovators and problem solvers tackling some of the world's most pressing challenges. Against the backdrop of one of the world's most diverse cities, the two-year MGA program offers a tailor-made, interdisciplinary curriculum delivering the best of both an academic and a professional degree with mandatory global internships in students' chosen field. The two-year MPP program is highly interdisciplinary, bridging the spheres of domestic policy and international or global policy in order to address the complex issues facing modern governments and other policy-making organizations. The both programs feature core instruction on a small-group, cohort-based model.
In addition, students have the opportunity to enroll in joint-degree programs with the Rotman School of Management (MBA/MGA) or the University of Toronto Faculty of Law (JD/MGA and JD/MPP), as well as dual degree programs with Sciences Po in Paris (MPP/MGA), Hertie School in Berlin (MIA/MGA) and the new dual degree with the London School of Economics & Political Science in London, (MPA/MGA).
Degree Programs
Master of Global Affairs
Master of Global Affairs - JD
Master of Global Affairs - MBA
Master of Public Policy
Master of Public Policy - JD
Master of Arts in European and Russian Affairs
Master of Arts in European and Russian Affairs - JD
Master's Program in Asia-Pacific Studies
Graduate Program in Ethnic and Pluralism Studies
Doctoral Program in South Asian Studies
Fellowship in Global Journalism
Master of Global Affairs / Master of Public Policy (with Sciences Po)
Master of International Affairs/Master of Global Affairs (with Hertie School)
Master of Public Administration/Master of Global Affairs (with LSE)
University of Toronto In The World
---
Job Openings
No jobs have been posted by this school.
Upcoming Events
No events have been posted by this school.
This school is not attending any APSIA events.
News
No news has been posted by this school.