University of Michigan
Gerald R. Ford School of Public Policy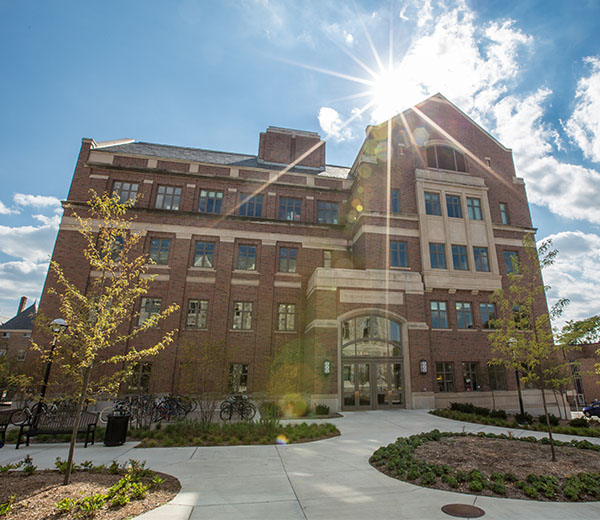 The Ford School at the University of Michigan is a community dedicated to the public good. We inspire and prepare diverse leaders grounded in service, conduct transformational research, and collaborate on evidence-based policymaking to take on our communities' and our world's most pressing challenges.
Housed at a world-class university, the school excels in interdisciplinary research, teaching, and engagement in fields such as education policy, environmental and energy policy, public and nonprofit management, economics and finance, and politics among others, with Top 10 rankings by U.S. News & World Report in social policy, public policy analysis, urban policy, and health policy and management. These strengths complement and underlay the Ford School's increasing emphasis in international affairs, human rights, security & diplomacy, and international development.
Our graduate core courses lay the analytical groundwork necessary to understand international affairs, institutions, economic systems, and politics. Advanced electives include classes on international trade, human rights, economic development, national security, and diplomacy. The Ford School offers two optional concentrations for students interested in declaring a focus area to position themselves for a career in international affairs: International Policy and International Economic Development.
Students have the opportunity to enroll in coursework that takes them beyond the classroom through international travel. One such class is led by students, who vote on which developing country to study in the classroom and throughout a weeklong trip. The curriculum of each class is constantly evolving to the issues most relevant to the day and drawing upon the expertise of the professor teaching the course.
With a requirement to intern between the first and second years of study, about 20 percent of students opt to intern abroad at organizations that include the World Trade Organization, the International Civil Aviation Organization, the World Bank, The Asia Foundation, and Innovations for Poverty Action. Another 20 percent intern with a U.S.-based organization that deals with international issues.
The International Policy Center, the hub for global engagement and education on pressing issues housed at the Ford School, hosts visitors and seminars and produces research on international finance, trade and development, international security, and human rights.
In fall 2018, we launched a major new initiative that will dramatically increase opportunities for students to pursue coursework, experience, and connections in the field of international diplomacy. The Weiser Diplomacy Center brings professors of practice in international diplomacy and host shorter-term opportunities for diplomats in residence from around the world. The center also offers workshops, simulations, conferences, and internship opportunities in the U.S. and abroad, making the Ford School an outstanding place for those aspiring to meaningful careers in international affairs.
Dedicated to global engagement, opportunities across the university allow students have exposure to international experiences. U-M houses 17 international centers and programs focused on world regions and global themes. Students have the opportunity to learn more than 40 languages.
Degree Programs
Master of Public Policy
Master of Public Affairs
PhD Program in Economics, Political Science, and Sociology
Master of Public Policy - Juris Doctorate
Master of Public Policy - Master of Public Health
Master of Public Policy - Master of Social Work
Master of Public Policy - Master of Arts in Higher Education
Master of Public Policy - Master of Urban and Regional Planning
Master of Public Policy - Master of Information Systems
Master of Public Policy - Master of Science in Environment and Sustainability
Master of Public Policy - Master of Applied Economics
Master of Public Policy - MD
Master of Public Policy - Master of Arts in Asian Studies
Master of Public Policy - Master of Arts in Southeast Asia
Master of Public Policy - Master of Arts in Russian, East European, and Eurasian Studies
University of Michigan In The World
---
Job Openings
No jobs have been posted by this school.
Upcoming Events
No events have been posted by this school.
This school is not attending any APSIA events.
News
An impressive slate of core and visiting faculty help make the Ford School a hub for engagement with the foreign policy community and a national leader in international policy education. The Weiser Diplomacy Center (WDC) and International Policy Center have forged partnerships with the U.S. State Department, American Academy of Diplomacy, U.S. Army War College, Korea Foundation, and others to offer engaged learning opportunities for students. Students practice their strategic problem-solving skills in global simulations that clarify the importance of analysis and negotiation, attend one-of-kind events with high-profile leaders, and travel the world with their classmates.
As the toll of the COVID-19 economic shutdown reverberates around the world, money sent home by foreign workers is drying up.
Blame narratives over the origins of the COVID-19 pandemic are deepening rifts between the U.S. and China, according to Javed Ali, Towsley Policymaker in Residence at the Ford School. In a co-authored op-ed featured in The Hill on April 23, Ali asserts that these rising tensions added to an already weak relationship, and "risks igniting a new Cold War."
The response to the spread of COVID-19 has not only "revealed deep shortcomings in America's emergency preparedness and national medical response systems," but also has broader implications for national security(link is external), according to Ford School Towsley Policymaker in Residence Javed Ali. As the nation's attention is focused on fighting the pandemic, domestic and foreign adversaries could seize on the moment, as an opportunity to conduct "attacks against physical targets, undermine public confidence in government through disinformation and propaganda, disrupt medical and public health response efforts or create further economic uncertainty through commodity or currency manipulations," he wrote in The Hill on March 13.
"On February 26, the Ford School welcomed Denis McDonough, former White House Chief of Staff for President Obama for an armchair conversation on "New Frontiers: Labor, Immigration and Foreign Policy," with John Ciorciari, associate professor at the Ford School. The conversation covered topics from international economic policy to advice for rising policymakers. Michigan Daily covered the event in an article published on February 26."
The Ford School held its annual DC career trip with record student attendance (55 graduate students) and alumni participation (140). A Ford School tradition, this year's Washington, DC experience provided students with several opportunities to engage alumni and other professionals working in the public, private, and nonprofit sectors. On Thursday evening, the Ford School reception was kicked off with a lecture by Professor John Ciorciari on "The Path Forward in Afghanistan," followed by a robust networking reception at the Council on Foreign Relations.