University of Michigan
Gerald R. Ford School of Public Policy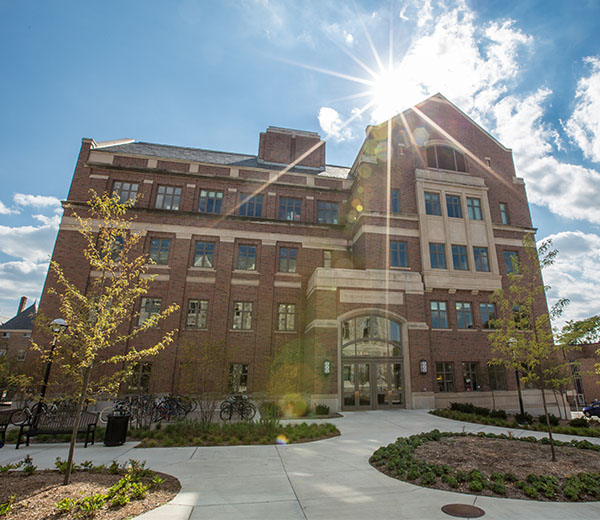 The Ford School at the University of Michigan is a community dedicated to the public good. We inspire and prepare diverse leaders grounded in service, conduct transformational research, and collaborate on evidence-based policymaking to take on our communities' and our world's most pressing challenges.
Housed at a world-class university, the school excels in interdisciplinary research, teaching, and engagement in fields such as education policy, environmental and energy policy, public and nonprofit management, economics and finance, and politics among others, with Top 10 rankings by U.S. News & World Report in social policy, public policy analysis, urban policy, and health policy and management. These strengths complement and underlay the Ford School's increasing emphasis in international affairs, human rights, security & diplomacy, and international development.
Our graduate core courses lay the analytical groundwork necessary to understand international affairs, institutions, economic systems, and politics. Advanced electives include classes on international trade, human rights, economic development, national security, and diplomacy. The Ford School offers two optional concentrations for students interested in declaring a focus area to position themselves for a career in international affairs: International Policy and International Economic Development.
Students have the opportunity to enroll in coursework that takes them beyond the classroom through international travel. One such class is led by students, who vote on which developing country to study in the classroom and throughout a weeklong trip. The curriculum of each class is constantly evolving to the issues most relevant to the day and drawing upon the expertise of the professor teaching the course.
With a requirement to intern between the first and second years of study, about 20 percent of students opt to intern abroad at organizations that include the World Trade Organization, the International Civil Aviation Organization, the World Bank, The Asia Foundation, and Innovations for Poverty Action. Another 20 percent intern with a U.S.-based organization that deals with international issues.
The International Policy Center, the hub for global engagement and education on pressing issues housed at the Ford School, hosts visitors and seminars and produces research on international finance, trade and development, international security, and human rights.
In fall 2018, we launched a major new initiative that will dramatically increase opportunities for students to pursue coursework, experience, and connections in the field of international diplomacy. The Weiser Diplomacy Center will bring professors of practice in international diplomacy and host shorter-term opportunities for diplomats in residence from around the world. The center will also offer workshops, simulations, conferences, and internship opportunities in the U.S. and abroad, making the Ford School an outstanding place for those aspiring to meaningful careers in international affairs.
Dedicated to global engagement, opportunities across the university allow students have exposure to international experiences. U-M houses 17 international centers and programs focused on world regions and global themes. Students have the opportunity to learn more than 40 languages.
Degree Programs
Master of Public Policy
Master of Public Affairs
University of Michigan In The World
---
Job Openings
The Ford School of Public Policy invites applications for a tenured or tenure-track position in International Relations, especially human security broadly defined, including political/military affairs, diplomacy, development, international law and institutions, and human rights.
Category: Faculty/Scholar
Upcoming Events
No events have been posted by this school.
This school is not attending any APSIA events.
News
On March 24th, 1965 at 8:00 PM, about 3,500 faculty and students at the University of Michigan launched the first ever "teach in," despite bomb threats and condemnation by the Michigan state legislature and governor. For twelve hours, participants attended lectures, debates, and performances to protest the War in Vietnam. Along the way, they established a model that would be replicated at over 120 campuses across the United States before the end of the war…
"It was a big, late-night conversation. We walked into the room with one view of the world, and we came out completely different, and totally for the better."
Yang's study is not only addressing a massive challenge in microfinance and international development, it's also providing rigorous empirical evidence of the importance of personal identification for credit market efficiency.
This July—a week after the Permanent Court of Arbitration (PCA) issued what John Ciorciari called "a sweeping repudiation of China's maritime claims in the South China Sea," Ciorciari wrote an op-ed for China-US Focus titled, "Reverberations of the South China Sea Decision."
The University of Michigan will launch a new partnership that enables MBA students from one of Latin America's top business schools to earn a master of public administration degree at the Ford School of Public Policy.